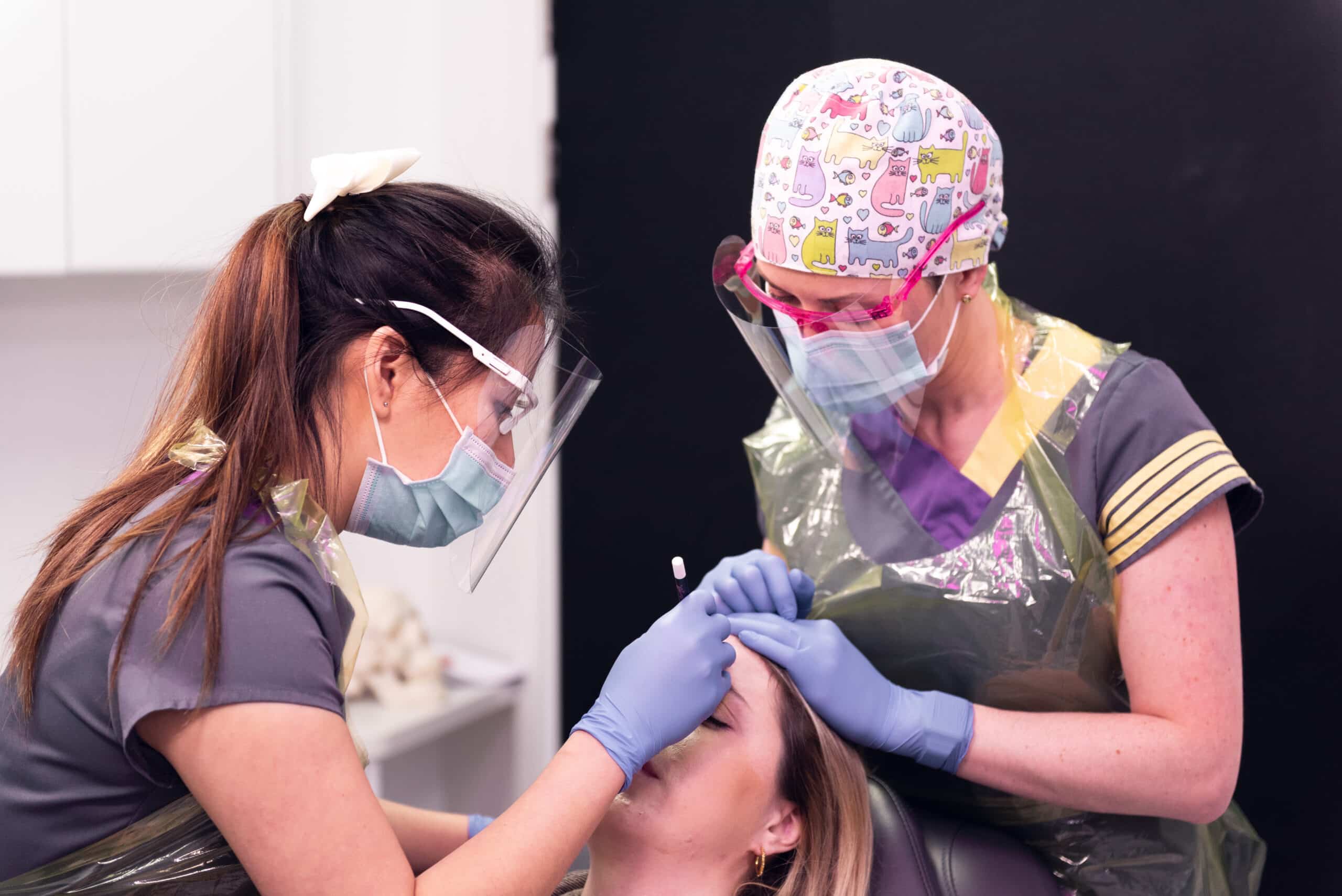 Aesthetic Regulation – New UK aesthetics licensing for 2023
New UK law, procedure and punishments planned. How will this affect you and your practice?
The Birth of the New Licensing Scheme in the UK Cosmetic Industry
There's a significant change afoot in the UK's cosmetic industry. You might have heard whispers about a new licensing scheme for Botox and fillers. So, what's it all about, and what does it mean for aesthetic practitioners? Let's break it down. Before we get into it, if you're a patient looking for treatment, follow the links here to Botox or Lip filler.
The Health and Care Bill and Its Implication for Aesthetic Practitioners
On 1st March 2022, a key amendment was announced to the Health and Care Bill. The Health Secretary, Sajid Javid, was given the power to introduce a licensing scheme for non-surgical cosmetic procedures in England. It's a big deal because it means that any practitioner doing aesthetic treatments will need a licence. It will be against the law to practice without one, and this will be overseen by The Department of Environmental Health. Sajid Javid, Former Secretary of State for Health and Social Care said;
Everyone should have the assurance that the person carrying out their non-surgical cosmetic procedure is trained to do so. We are determined to improve the safety of these procedures, and our proposed licensing scheme will ensure providers are held to the highest possible standards.

Sajid Javid, Former Secretary of State for Health and Social Care.
Addressing the Issue of Unqualified Injectors
Unqualified injectors present a significant problem in the aesthetics industry, one that these new regulations aim to resolve. Often, these untrained practitioners administer treatments without an understanding of the associated risks and potential complications, thereby placing their clients in jeopardy. The proposed licensing scheme is designed specifically to counteract this issue. By mandating practitioners to hold an official license demonstrating their competence, it assures the public that they're in safe hands. Moreover, it helps to safeguard individuals from harmful procedures performed by unqualified injectors. This will promote a safer and more reliable aesthetics industry.
If you are a medical practitioner who has done the relevant training in the treatments you administer, you are very likely to already satisfy the new regulatory criteria and may either not have to do anything or perhaps submit your official degrees, registrations and course certificates to the newly created register.
Consequences for Unqualified Injectors Flouting the New Regulations
The exact penalties for non-compliance with the new regulations haven't been laid out yet but we can make some educated assumptions. The consequences are likely to be stringent, considering the potential harm. Penalties may include fines, the revocation of any licenses (if injectors have any in the first place), and in severe cases, legal prosecution. The intent is clear: ensuring patient safety and preserving the reputation of the aesthetic industry. The enforcement of these punishments should deter unqualified practitioners and underline the importance of proper training, qualification, and adherence to safety standards.
Scope: Going Deeper than the Dermis
The scheme is intended to apply to any treatment that goes deeper than the dermis layer of the skin. So, it covers procedures like Botox and fillers, plasma, and vitamin injections. The scheme hasn't become law yet; it needs to be debated in Parliament first. But once it is passed, probably in July, there will be a consultation period to refine the scheme. It might take up to two years before it is fully operational.
The Scheme as UK Law: A Timeline for Implementation
Education is a big part of the new plan. Practitioners will need to meet an educational standard to be eligible for a licence. Most likely, they'll need an accredited qualification. One of these is the Level 7 qualification, a postgraduate credential focusing on the knowledge required for safe and effective non-surgical clinical aesthetic treatments. The Level 7 is open to healthcare professionals registered with a regulatory body, such as the GMC, NMC, GDC, or HCPC.
Regulation Timeline: 2015 to Present
The General Medical Council (GMC) publishes guidelines for doctors offering cosmetic interventions.
The Department of Health releases guidelines recommending that non-surgical cosmetic procedures such as Botox and dermal fillers should only be performed by appropriately trained and qualified professionals. The guidelines also suggest that all practitioners be registered with a professional regulatory body.
Nuffield Council on Bioethics publishes 'Cosmetic procedures: Ethical issues', outlining recommendations for the aesthetic industry, including the introduction of a minimum age limit for all cosmetic procedures.
The British Association of Aesthetic Plastic Surgeons (BAAPS) calls for tighter regulations on non-surgical cosmetic treatments due to the increasing number of botched procedures.
The UK Government passes a new law banning botulinum toxin and dermal fillers for under-18s, also known as the 'botox ban.'
The Department of Health and Social Care announces plans to introduce licensing for non-surgical cosmetic procedures like botox and dermal fillers. Health Secretary Sajid Javid states that he wants to see a regulatory system that "puts patient safety first."
Health and Social Care Committee releases a report encouraging the government to introduce new laws for better regulation of non-surgical cosmetic procedures. The UK Government is given two months to respond to the report, setting the deadline for their response to 2nd October 2022.
The Health and Care Bill, including the amendment to introduce a Botox and dermal fillers licensing scheme, is expected to receive royal assent in July. The licensing scheme is expected to take another two years to be fully implemented.
Educational Standards: Level 7 Qualification
Now, you might be wondering, "what if I've already had some training?" Well, if you've done previous aesthetics training, it's possible you could "fast-track" your Level 7 qualification by showing evidence of prior learning and experience.
A Level 7 qualification in the UK education system is equivalent to a Master's degree level and is often a requirement for non-surgical cosmetic interventions like injectables.
Here are some qualifications that could be considered equivalent to Level 7:
Master's Degree: A Master's degree in a relevant field, such as health sciences or a medical specialty, is typically considered equivalent to Level 7.
Postgraduate Certificate or Diploma: Postgraduate certificates or diplomas in related subjects (like dermatology, plastic surgery, or cosmetic medicine) can also be equivalent to a Level 7 qualification.
Professional Healthcare Qualifications: Being a fully qualified doctor (holding a MBBS or equivalent), dentist (BDS or equivalent), or registered nurse (RN, RGN) with prescribing rights often surpasses the Level 7 standard in terms of general medical knowledge.
Specialist Training or Fellowship: Completion of specialist training in areas related to aesthetics, such as dermatology, plastic surgery, or ophthalmology, could be considered as surpassing Level 7 qualifications.
Certifications from Aesthetic Medicine Institutions: Certain professional qualifications or certifications from recognised bodies in the field of aesthetic medicine might be considered equivalent, depending on the rigor and comprehensiveness of the course.
In the context of the new aesthetic licensing scheme, it remains to be seen how exactly existing qualifications will be assessed against the new standards. But a medically qualified practitioner undertaking a foundation Botox and filler course would certainly qualify under these new regulations.
So do these new regulations even apply to me?
Even for medically qualified injectors in the UK who can prescribe, the recommendations made by the Health and Social Care Committee and the impending licensing scheme are highly significant. Here's why:
Standardisation: The scheme will introduce a standardised level of training and competence across the industry, helping ensure a universally high standard of care. This is equally relevant for all practitioners, regardless of their existing medical qualifications.
Professional Development: The requirement for practitioners to meet an educational standard, likely a Level 7 qualification or equivalent, may involve new training or qualifications even for medically qualified injectors. This could offer the opportunity for professional growth and development.
Regulation and Safety: The recommendations and the licensing scheme are aimed at increasing the safety of aesthetic treatments for all patients. Even if you're medically qualified, adhering to these recommendations and regulations will help ensure your practice is as safe and effective as possible.
Public Trust: Once the scheme is implemented, being licensed will become a mark of professionalism and quality assurance for patients. Even if you're already a medically qualified injector, acquiring a license will further build public trust in your services.
Legal Compliance: Lastly, it's important to remember that once the scheme becomes enforceable, it will be a legal requirement for all aesthetic practitioners, regardless of their existing qualifications. Non-compliance will be a criminal offence, so it's vital to stay updated and adhere to the new rules.
Remember that these changes are designed to promote patient safety and professional standards across the aesthetics industry, and to protect practitioners as well as patients. Following these recommendations and being prepared for the new licensing scheme will help ensure you are providing the best possible care to your patients.
This licensing scheme is a great step forward for the aesthetics industry. It helps ensure both patients and practitioners are safe. But, remember, it's still a couple of years away, and it's not definite that Level 7 will be required. If you're training in aesthetics now, keep going! You're gaining invaluable experience and confidence, and you'll be ready for the changes ahead.
A Leap Forward in Ensuring Safety in Aesthetic Treatments
There's a lot more we can expect to come out of this new legislation. For instance, the Health and Social Care Committee have urged that the licensing scheme should be operational by July 2023, sooner than initially thought. They've also recommended minimum training standards, making dermal fillers prescription-only, and introducing a two-part consent process to allow patients a cooling-off period of at least 48 hours between consultation and treatment.
In the end, this is about ensuring patient safety. As the Chair of the Health and Social Care Committee, the Rt Hon Jeremy Hunt, put it, the government aims to end the situation where anyone can carry out non-surgical cosmetic procedures, regardless of training or qualifications. The focus is on creating the safety standards that anyone seeking treatment has a right to expect.
The Heart of the Matter: Ensuring Patient Safety
These changes will bring patient safety into public consciousness. The goal is that when someone is treating your face, you'll know they have the proper skills to do that safely. This licensing scheme is about guaranteeing that assurance. The scheme will ensure practitioner's credentials are checked, their premises are safe, and they have sufficient medical oversight and insurance. Minister for Patient Safety Maria Caulfield said:
The spread of images on social media has contributed to an increase in demand for cosmetic procedures such as Botox and fillers. While these can be administered safely, we are seeing an unacceptable rise in people being left physically and mentally scarred from poorly performed procedures.

Today's amendment is the next step on the road to effective regulation of non-surgical cosmetic procedures in England.

Maria Caulfield – Former Minister for State for Health
Guidelines Until the Licensing Scheme is Fully Operational
So, let's wrap it up: the licensing scheme is coming, but it's going to take time. Until then, if you're a patient make sure you're seeing an aesthetic practitioner who's a medical professional with a foundation degrere in their medical discipline and training in the procedure they are proposing. Avoid mobile practitioners at all costs and be extremely careful of practitioners operating out of beauty salons, hotels or rented rooms.
For unqualified practitioners you must acheive level 7 as soon as possible to carry on with your practice or face the regulatory consequences which could even be criminal sanctions. For medically qualified practitioners simply keep up with your normal professional CPD and if you are looking to expand your scope or start out in aesthetic medicine then take a look at the HUB courses right here. Botox and Filler courses at the HUB.
Ready to Start?
If you're ready to start doing work that makes you proud, book a course today.  Take the first step towards the practice you deserve.
You made it to the bottom! Congratulations! For those serious enough about aesthetic medicine to read the entire article here's an exclusive free trial so you can get a taste of the HUB content without payingf a penny. https://smileworks-hub.co.uk/product/hub-free-trial-2/ Enjoy!